On Thursday, November 3, CFA Society New York held its "2017 Investment Professional Employment Outlook" event. The night featured keynote speaker Kate Burke, panel moderator Alexis Dufresne, and panelists Lorraine Twomley, Drew Desky, James Crowley, John Jaenisch, and Gideon King.
Kate Burke, Head of Human Capital and Chief Talent Officer at AllianceBernstein, opened the night by giving an overview of things to keep in mind during the job search. There is not a lot of growth in the job market currently, but there is always room for talent. "You want the right people in the right roles. It is the only thing that is going to drive the long term success of your firm." A person must be an intellectual and cultural fit to succeed in a company. The job searcher must ask himself: Is this an environment I want to be in? Is this an environment I can learn in? Will this job satisfy me both economically and emotionally? By answering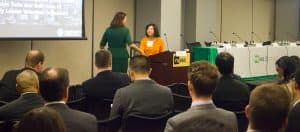 these three questions, he can find work that will truly satisfy him.
Lorraine Twomley, Head of Career Advisory and Recruitment at Societe Generale Americas, built off of Ms. Burke's advice. It is important that you don't let people fit you into a role. You need to think about what is going to make you the most happy and the most successful. If you are unhappy in your job, then you will burn out.
Life is not always that simple according to Gideon King, the Founder and General Partner of Off Road Capital Partners. You have to look at what the market wants. Going into a dying industry isn't going to serve you well in the long run. Instead, you need to "follow the capital, follow the money." By going into growing and desirable industries, you will find there is more money to be made and more clients to serve. "Pay a lot less attention to what you want and pay more attention to what the market wants." When you are making money, you will be happy.
John Jaenisch, Founder of Corcoran Partners, took some time to describe the current market from an employer's perspective. "It's great." There is a whole lot of talent to choose from. With all the candidates wanting to work in investing, it means that firms can select the standouts and above average performers to fill their positions. If anything, this just means that it is all the more important to find a way to differentiate yourself from the stack of thousands of resumes.
According to Mr. King, a great way to do this is through hobbies. "I would hire almost exclusively based off of hobbies" he joked. It can show the kind of person that you are. If you are successful in the things you set your mind to, then that can be an indicator for professional success. He once decided to hire a candidate based off the candidate's sharpshooting and culinary skills. If he is driven to be the best in these things, then he will have the same drive in the investments that he is passionate about.
James Crowley, Corporate Vice President at New York Life, urged job seekers to remember that the interview starts from the instant that someone makes contact with you. They will be looking for how quickly you can respond to emails, your tone in those emails, and how you treat the staff and secretaries. It is important to make a good first impression and that is based highly off how you act.
Drew Desky, the Managing Partner at Rand Thompson Consultants, offered his take on asking questions in interviews. "You have to roll with what they give you." You shouldn't ask for what the day to day at the job is like nor what the hours are. Instead ask why the position is open. Figure out what they are looking for in a candidate and present yourself in that light. Try to fill the position as best as possible because they are looking for the best fit.
By the end of the night, attendees left with a new perspective on how to approach finding a job in the investment industry.
With a membership of over 10,000, the CFA Society New York, Inc. (CFANY) is the largest CFA® society in the world and a founding member of CFA Institute. Founded in 1937 by value investing pioneer Benjamin Graham, CFANY is a leading forum for the financial services industry and a provider of professional education and career development. In addition to delivering more than 200 events annually for its members, investment professionals and the general public, CFANY prepares hundreds of candidates to obtain the Chartered Financial Analyst® (CFA) designation. CFANY is committed to promoting best practices and the highest ethical standards in finance. Visit www.cfany.org for more information.