Overview
SQA Seminar, featuring Harry Mamaysky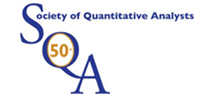 This event will explore the issues of compensation and talent management from the firm perspective. Companies need to understand how to recruit and retain the best talent, especially in an increasingly tight job market with outside industries such as Tech competing for people once destined for Finance. Owners also need to understand how important company culture, diversity, and inclusion is to the mandate of institutional investors.
Join us for an evening with Professor Mamaysky who will discuss how to use Natural Language Processing techniques to forecast currency and stock returns
Agenda
5:30 PM | COCKTAILS & NETWORKING
---
6:00 PM | PRESENTATION
Professor Harry Mamaysky
Harry Mamaysky is an Associate Professor of Professional Practice at Columbia Business School, and the director of the News and Finance research initiative at the Business School's Program for Financial Studies. Prior to his academic career, he spent quite a bit of time as a practitioner. He was formerly Head of the Systemic Risk Group at Citigroup and a member of the firm's Risk Executive Committee, and has also worked at Old Lane, Morgan Stanley, and Citicorp.
Professor Mamaysky's research interests lie in asset pricing, market frictions, and the role of information in financial markets. His research has appeared in leading academic journals, and he has presented at numerous academic and professional conferences. He earned his PhD in finance from the Massachusetts Institute of Technology under the supervision of Jiang Wang and Andrew Lo.
---
7:00 PM | COCKTAILS & NETWORKING
Additional Details
Voya
230 Park Ave
New York, NY 10169
SQA Members: Regular or Academic – $50
Transitional or Student – $30
Non-Member Affiliated (including CFANY members) – $70
Nonmembers – $90
Please contact the office at [email protected] or 518-694-3157 if you would like to register over the phone.