Author Series: Paul Johnson and Paul Sonkin of "Pitch the Perfect Investment"
September 27 @ 6:00 PM

-

8:00 PM
Author Series: Paul Johnson and Paul Sonkin of "Pitch the Perfect Investment"
WEDNESDAY, SEPTEMBER 27TH 6:00 PM – 8:00 PM
FEES: Member $15 | Nonmember $45
LiveStream: Free & Available to Members Only
Location
CFA Society New York Conference Center
1540 Broadway
Suite 1010 (45th St. Entrance)
New York, NY 10036
CFA Institute CE®: 1.5 Credits
CE credits sponsored by Kaplan Schweser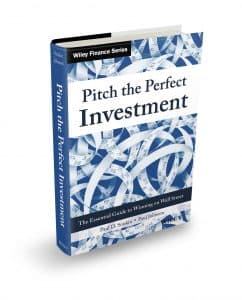 Whether you work at a money management firm, hedge fund, investment bank, or private equity firm, the ability to pitch a compelling investment idea determines not only your bonus, but your success on Wall Street. If you don't have a great investment idea, there is nothing to pitch. If you have a great idea but cannot communicate it, your pitch will fall on deaf ears. Although these skills are so essential, they are rarely taught on Wall Street. As a result, analysts are forced to develop this expertise on their own through an agonizing process of trial and error. Pitch the Perfect Investment provides the tools to significantly accelerate this learning process. In this era of hyper-competition on Wall Street, even the smallest edge can make the difference between success and failure.
Learning Objectives
Identify great investment opportunities
Organizing the content of your investment pitch
Tailoring your message to the audience's investment criteria
Who should Attend
Analyst, PM's, CIO's, Buy-side and Sell-side  
CFA Society New York expects all attendees to comply with CFA Society New York's Code of Conduct while attending CFA Society New York events or meetings. CFA Society New York expressly reserves the right, in its sole discretion, to grant or deny access to any individual, or to expel any individual from any CFA Society New York event or meeting.
The CFA Society New York, Inc. ("CFANY") is not a Registered Investment Advisor, Broker/Dealer, Financial Analyst, Financial Bank, Securities Broker, or Financial Planner. While CFANY seeks to present accurate and reliable information, CFANY does not endorse, approve, or certify such information, nor does it warrant or guarantee the accuracy, completeness, efficacy, timeliness, or fitness of such information for any particular purpose. Information presented may or may not be current as of the date of the presentation, and CFANY has no duty to update and maintain the information, reports, or statements made during events. The information presented is provided for information purposes only, and is not intended to be and does not constitute financial advice, investment advice, trading advice, or any other advice, is general in nature, and is not specific to you. None of the information presented is intended as an offer or solicitation of an offer to buy or sell, or as a recommendation, endorsement, or sponsorship of any security, company, or fund. CFANY is not responsible for any investment decision made by you. You should not make any financial, investment, trading or other decision based upon any of the information presented at CFANY without undertaking your own independent due diligence and consulting with a qualified and registered securities professional. You understand that your use of any of the information presented at CFANY is at your own risk. There is a substantial amount of risk in trading securities, and the possibility exists that you can lose all, most or a portion of your capital. CFANY does not, cannot, and will not assess or guarantee the suitability or profitability of any particular investment, or the potential value of any investment or informational source. The securities mentioned in any CFANY presentation may not be suitable for investors depending on their specific investment objectives and financial condition.
All requests for Withdrawals must be submitted in writing and dated. The date of the request will be the date it is received by NYSSA. Requests may be faxed to (212) 541-4677, or emailed to seminars@nyssa.org.
Withdrawals from events, live or streaming, are subject to the following policy:
24 HOURS ADVANCED NOTICE OR MORE: Credit to be issued (to be used within 6 months)
LESS THAN 24 HOURS OR AFTER EVENT HAS STARTED: No refund
For more information: Policies and Procedures