CFANY Author Series: THE END of ACCOUNTING and the Impact of Tax Legislation on Earnings
June 1 @ 5:45 PM

-

7:30 PM
CFANY Author Series: THE END of ACCOUNTING and the Impact of Tax Legislation on Earnings
Thursday, June 1, 2017
5:45 pm – 7:30 pm
CFANY Conference Center
1540 Broadway #1010,
New York, NY 10036
Members: $30
Nonmembers: $70
CFA Institute CE®: 1.0 Credits

CE credits sponsored by Kaplan Schweser
Baruch Lev, Philip Bardes Professor of Accounting and Finance, New York University Stern School of Business
Murray Solomon, Partner, EisnerAmper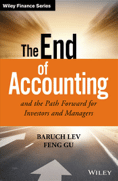 Major corporate decisions, such as restructuring and M&A, are predicated on financial indicators of profitability and asset/liabilities values. These documents move mountains, sowhat happens if they're based on faulty indicators that fail to show the true value of the company? Join us for a lively conversation with Professor and Author Baruch Lev on his newest book "The End of Accounting and the Path Forward for Investors and Managers". You will leave the event with a blueprint for more accurate valuations.
Learning Objectives
Actionable financial analysis
Identify financial statement impropriety
Gain insight on updated accounting procedures
Discover new and comprehensive economic indicators
Identify and value strategic resources in a company
Author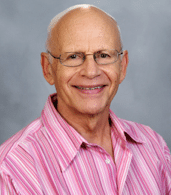 Baruch Lev is the Philip Bardes Professor of Accounting and Finance at New York University Stern School of Business. In his current positions, Professor Lev teaches courses in accounting, financial analysis and investor relations. Professor Lev has been with NYU for 17 years. His primary research areas of interest include corporate governance; earnings management; financial accounting; financial statement analysis; intangible assets/intellectual capital; capital markets; and mergers and acquisitions. Professor Lev is the author of five books including Intangibles: Management, Measurement, and Reporting, and Financial Statement Analysis: A New Approach. His recent book is: Winning Investors Over (2012). Lev has published over 100 research studies in the leading accounting, finance and economic journals. Professor Lev has received numerous awards and honorary doctorates. Before joining NYU, Professor Lev held professorial positions at the University of Chicago, the Hebrew University of Jerusalem, Tel Aviv University, where he was dean of the business school, and University of California at Berkeley (jointly appointed by the business and law schools). Lev's practical experience includes auditing, and investment banking. He was also a partner in a consulting firm.
CFANY expects all attendees to comply with CFANY's Code of Conduct while attending CFANY events or meetings. CFANY expressly reserves the right, in its sole discretion, to grant or deny access to any individual, or to expel any individual from any CFANY event or meeting.
The CFA Society New York, Inc. ("CFANY") is not a Registered Investment Advisor, Broker/Dealer, Financial Analyst, Financial Bank, Securities Broker, or Financial Planner. While CFANY seeks to present accurate and reliable information, CFANY does not endorse, approve, or certify such information, nor does it warrant or guarantee the accuracy, completeness, efficacy, timeliness, or fitness of such information for any particular purpose. Information presented may or may not be current as of the date of the presentation, and CFANY has no duty to update and maintain the information, reports, or statements made during events.
The information presented is provided for information purposes only, and is not intended to be and does not constitute financial advice, investment advice, trading advice, or any other advice, is general in nature, and is not specific to you. None of the information presented is intended as an offer or solicitation of an offer to buy or sell, or as a recommendation, endorsement, or sponsorship of any security, company, or fund. CFANY is not responsible for any investment decision made by you.
You should not make any financial, investment, trading or other decision based upon any of the information presented at CFANY without undertaking your own independent due diligence and consulting with a qualified and registered securities professional. You understand that your use of any of the information presented at CFANY is at your own risk.
There is a substantial amount of risk in trading securities, and the possibility exists that you can lose all, most or a portion of your capital. CFANY does not, cannot, and will not assess or guarantee the suitability or profitability of any particular investment, or the potential value of any investment or informational source. The securities mentioned in any CFANY presentation may not be suitable for investors depending on their specific investment objectives and financial condition.
All requests for Withdrawals must be submitted in writing and dated. The date of the request will be the date it is received by NYSSA. Requests may be faxed to (212) 541-4677, or emailed to seminars@nyssa.org.
Withdrawals from events, live or streaming, are subject to the following policy:
24 HOURS ADVANCED NOTICE OR MORE: Credit to be issued (to be used within 6 months)
LESS THAN 24 HOURS OR AFTER EVENT HAS STARTED: No refund
For more information: Policies and Procedures