On Thursday, March 30th, the CFA Society New York (CFANY) hosted its Attracting Institutional Assets: The Importance of Operational Due Diligence program. Held as a service to all members and the investment community, this event stands as a critical opportunity to learn how to successfully recognize and adapt to the risks involved with business operations. This event brought together upwards of 60 attendees and featured notable panelists and speakers from various executive positions associated with Due Diligence, including, but not limited to, Managing Directors, COOs and CEOs.
The discussion focused on how the role of Operational Due Diligence has shifted to a more primary role in day-to day operational risks following the financial crisis of 2008, and how managers can utilize ODD to benefit the company overall. Some of these benefits include exposing potential risks before they can arise and cause harm to the company, and even how you can turn that very operational risk into opportunity through attracting new assets from institutional investors. Beginning with a short introduction from Robert Akeson, COO of Mirae Asset Securities (USA), Akeson states that "while ODD may not take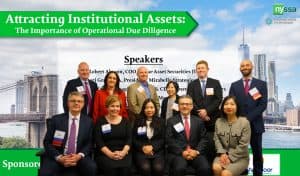 precedence over performance considerations, it has become an increasingly critical step as an institutional investor." This is followed immediately by a panel, moderated by Dori Graff, CFA, of Mirabelle Strategies LLC, and featured panelists Boris Onefater, Managing Partner and CEO of Constellation Advisors, Michael Merrigan, Founder and Managing Member of Shadmoor Advisors LLC, Nancy Wang, Managing Director of Adherence LLC, and Maura Harris, Head of Operational Due Diligence at Bostwick Capital.
With Operational Due Diligence moving to the forefront of investment decision making, it has become essential to both identify the areas that may cause disruption to daily operations and apply this knowledge to make smarter business decisions overall, said Graff. Prior to 2008, asset verification wasn't even necessarily required from an institution, and today has become an integral part of the process, says Onefater. Tackling the blanket statement that Operational Due Diligence has the responsibility to take the role of the alpha and dictate the very things that are right and wrong, Harris incorporates the counter-argument that it's not just about the numbers, it's about the partnership and dialogue that accompanies setting the tone for this industry.
Harris and the panelists then addressed the certain "knockout factors" that may prevent investment, regardless of what relationship you may be attempting to curate. Since 2008, alignment of the management has become crucial, and if your managers are not focused on performance, various issues such as being tied up in compensation rather than keeping the interest of the funds in mind begin to affect the liquidity of the company, a potentially very real problem, explained Harris. Wang then addressed the skeptical nature of outsourcing and whether or not the emergence of ODD has shifted the thought process to that of wary of too much outsourcing of a large enough project. Wang clearly states that some companies just do not have the in-house resources to keep all their infrastructures current enough to satisfy market conditions, and these foreign companies have figured it out. She concludes the antithesis with a powerful statement; while there is always a chance for loss or gain in an investment, there is only a chance for loss when there is business to operational risk, so consider what outsourcing can do for your company.
To further expand upon the idea of outsourcing, both Merrigan and Harris address the issues facing the simple fact that companies are immediately setting a negative tone towards compliance and due diligence practices. Merrigan states that "if you are registered with the SEC, you should not have an outsourced CCO, it's just a deal breaker." Harris was quick to agree that outsourcing sets a negative tone in itself, and to have it come from the top proves it shouldn't be present. However, Onefater quickly interjected that there are necessary times in which a CCO and due diligence must be inquired about and potentially put in place in extenuating circumstances, such as his given example of a family company that wants their practices done and validated by a professional to avoid future confrontation.
Onefater began to address the problem facing larger banking institutions, stating that various companies even such as J.P. Morgan are no longer retaining custody over some of the larger assets of 50 billion dollars or such, putting the weight of such assets on the shoulders of smaller, lesser-known banks. This not only gives managers fewer choices towards a holistic financial relationship, but makes the industry of ODD a much more complex field, integrating newer institutions' credentials to assure that these funds are being protected and are going somewhere. The other panelists were quick to concur that it is going to be now the rationale that is examined in an ODD perspective, and it's crucial to examine why a fund may have chosen a specific vendor, rather than solely the popularity associated with the name of the vendor.
In summary, the panelists and moderator's consensus was that while ODD was not always a featured facet of a firm's daily operational processes, it is now not only a thought, but a demand by many institutional investor to assure procedural efficiency and accuracy. As the category of operational due diligence is refined further, it must be the job of those in the field of due diligence to move past having consistency in their practices from a goal to a reality. Ultimately, whether compliance and ODD becomes the number one focus of a firm and attracting institutional assets, investors have almost guaranteed that this field is not going anywhere anytime soon. The night then concluded with closing remarks from Harumi Urata-Thompson, CFA and CFANY COO, in which she surmises the importance of events such as these for both the educational opportunity it presents, as well as the network of individuals such as the panelists for the event.
Operational due diligence a pivotal role in both a company's financial standards as well as investors' thought processes. This event was intended to allow managers to expose potential risks before they cause irreparable harm to a firm.
CFANY would like to thank its sponsors at TriNet, ShadMoor, and Mirae Asset Securities, as well as Business Management Group for hosting the event as their first solo endeavor.
Author: Collin Chipetine