Attend
CFANY Call for Candidates
2018 State of the Union Address to Our Members
Honored Members,
As our fiscal year 2018 concludes, we would like to share with you a summary of our collective achievements over the past five years, an update as to where we stand today, as well as plans for the future of our great Society.
We must start by thanking you, our members, for your continuous support; our active volunteers, including our board, who so generously offer their time and effort; and our staff for their tireless commitment and dedication. We are also grateful for the assistance of our partners: CFA Institute, the global community of CFA Societies, and our sponsors. We are fortunate to have these enormous benefits, and proud of everything we accomplished together.
Five years ago we set out with a commitment to deliver a different scale of value to our members. Our plan was firstly, to support them in their careers through a vibrant community of peers and an improved understanding of current events and trends in the industry, and, secondly, by becoming a leading organization in the New York investment industry and increasingly, around the world.
Achievements – By the Numbers
We offer around 200 events to our members per year, and the number of attendees has risen from 4,250 to 10,650 annually. In addition, we now broadcast events online and have attracted 11,800 people. In aggregate, our events' audience has increased at a CAGR of 39%. As a result of this, as well as improved event quality, our membership community surged from 7,759 in 2013, to a current count of 11,828.

Financial Position
Our financial position has also improved, with annual revenue growing from $3.95mm to $6.10mm, and our Net Revenue from ($0.3mm) to $1.2mm, allowing us to deliver far greater value to our members and rebuild our reserves from $5.2mm in 2013 to $7.5mm in 2018.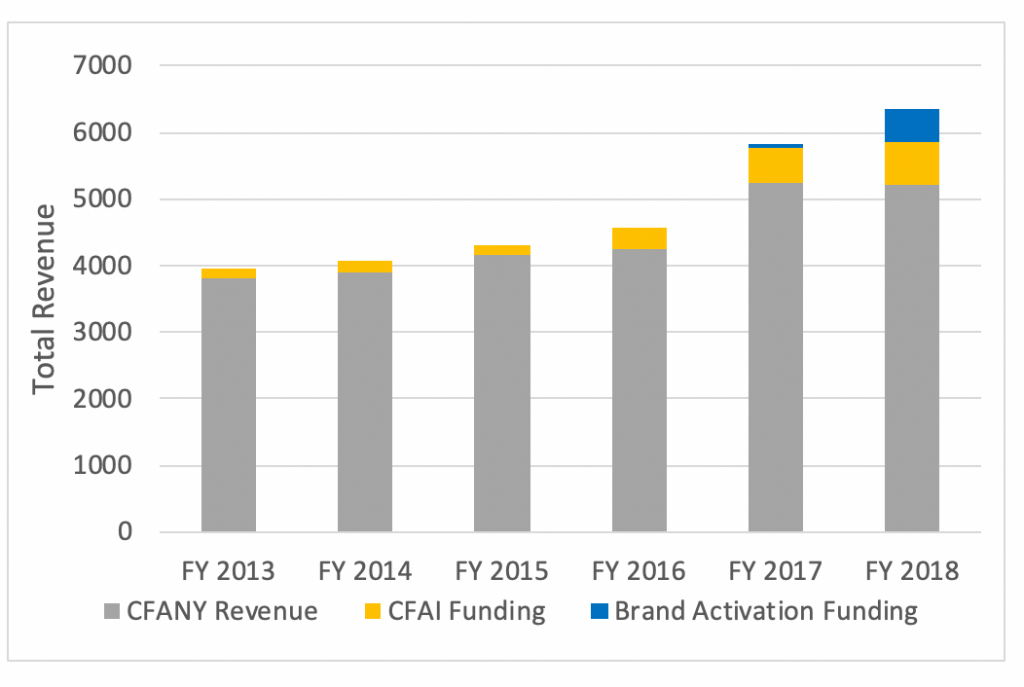 Recognition
It is critical to our mission to not only improve quantity, but also quality. As evidence of this, we received five prestigious awards from the CFA Institute over the past two years, marking an emphatic end to a dry spell that persisted for far too long:
| Year | Award |
| --- | --- |
| 2017 | CFA Society Strategic Initiatives Award: Delivering Member Value |
| 2017 | CFA Research Foundation Society Award: Events and Activities |
| 2017 | CFA Institute Inaugural Global Outstanding Young Leader Award: Thomas Brigandi |
| 2018 | CFA Institute Most Outstanding Society Award |
| 2018 | CFA Research Foundation Society Award: Website and Social Media |
Asset Owner Series
Our flagship series, the Asset Owner Series, has shown exponential growth both in the number of volunteers working on these major events, and in the number of attendees. 3,700 people joined and all 14 events in 2017 and 2018 were sold out. We hosted speakers from major asset owner groups in the area, including prestigious family offices, the NYC retirement system, Princeton endowment, the Rockefeller Foundation, and Prudential, to name but a few. Recognizing the power of bringing together the community of asset owners in a neutral peer-to-peer forum, we have now extended this series globally, partnering on similar and hugely successful events with a rapidly growing list of our brother and sister societies including Japan, France, Hong Kong, and Atlanta. Our publication on this topic, The Seven Kinds of Asset Owner Institutions, has been the most viewed article on CFA Institute's Enterprising Investor newsletter.
Fintech Series
In order to keep our members' knowledge on the cutting edge, we formed a Fintech Thought Leadership Groupand launched an event series in 2017. Nearly one-third of our members participated in person and/or online. The event series consists of three segments: AI and the Data Revolution, Blockchain, and the FinTech "edge", with four installments planned in each segment.
Name Change to CFA Society New York
In early 2016 we changed the DBA name of the Society from New York Society of Security Analysts to CFA Society New York in order to further our goals and mission. We took extreme care in renaming our 81-year old institution, and our consultations with you—our members—received overwhelming support. The new name allows us to benefit from and maintain a stronger CFA brand, gives us much greater access to top industry leaders, and creates better alignment with, and support from, CFA Institute and CFA Societies globally. Our CEO is a member of two key steering committees at CFA Institute, and our voice there gains greater and greater attention. A major media campaign was conducted in 2017, and we have continued promoting our Society and values this year, particularly through social media. A stronger brand gives greater recognition to CFA Charterholders, and raises our standing as an industry-leading organization.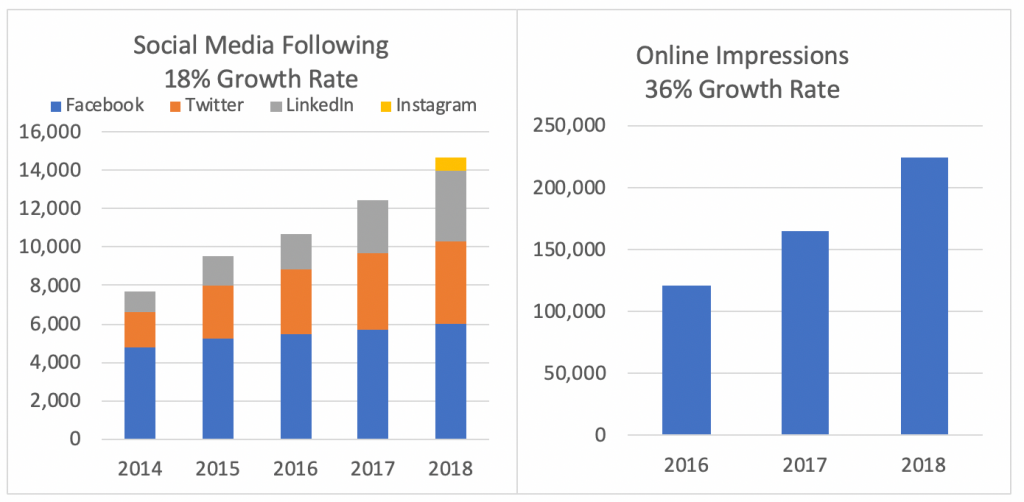 Who We Are
Our community comprises a broad range of investment professionals at different stages of their careers.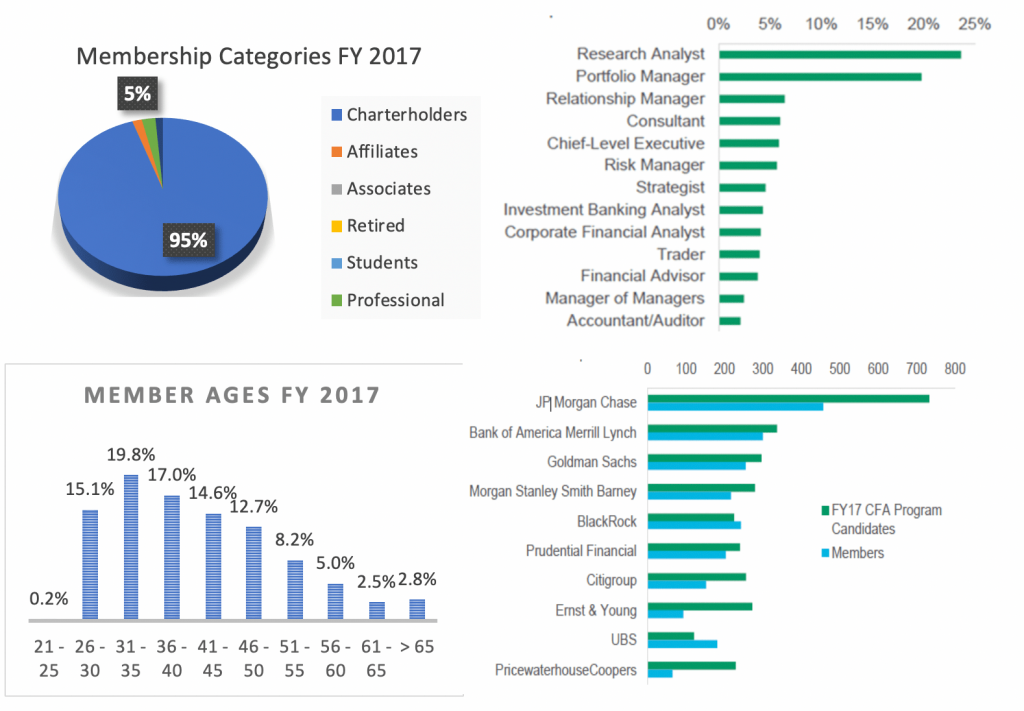 Raising the Bar for the Profession
In addition to building a community to support the professional development and respective careers of our members, we also make great strides in our second mission: raising standards in the investment profession, and thereby benefiting society at large. These activities are made up of outreach to other organizations—including not-for-profits, universities, etc.—as well as our employers.  Our advocacy work is communicating to the world that this is a noble profession, promoting better regulation, increasing investor protection and improving market integrity. We also lead in Diversity and Inclusion initiatives; over the last three years women have represented between 33 and 50% of our board.
Veterans Roundtable
As an example of our work on this mission, our Veterans Roundtable has welcomed high-level officers including the #1 Ranked Uniform Officer in the U.S. Air Force and the Commandant of West Point. We hosted a Veterans Transition Boot Camp, preparing over 100 veterans to enter the financial services profession, and contributed "Rules of Engagement" to CFA Magazine.
Long-Term Goals
Earlier this year, the board developed and adopted a new three-year strategic plan to further our mission: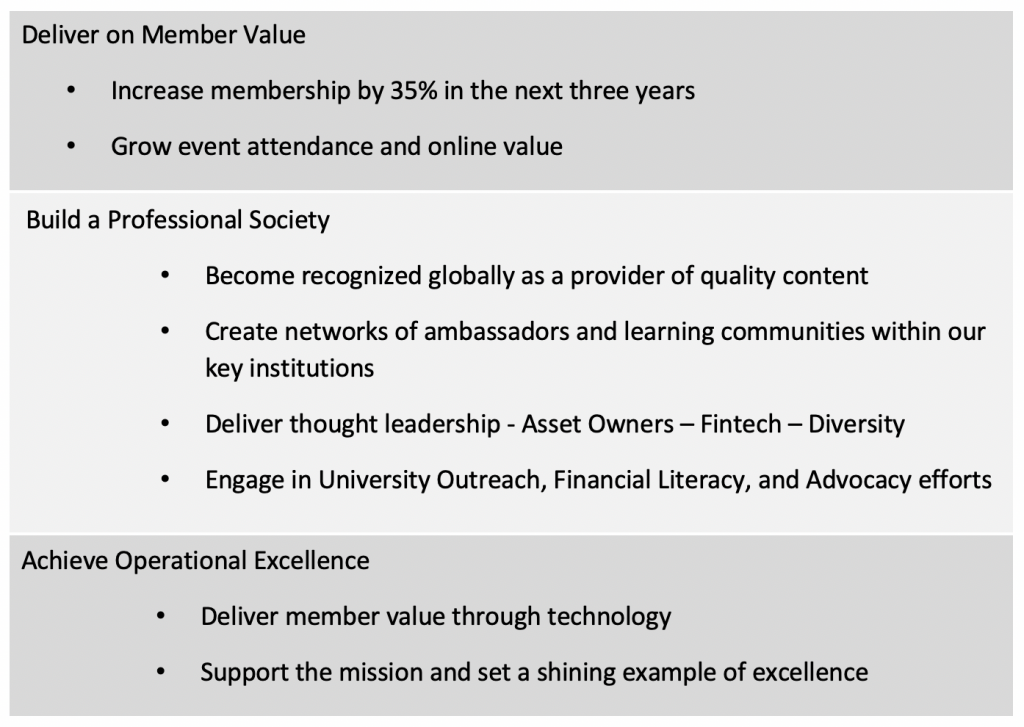 Conclusion
We are extraordinarily proud of what we have been able to achieve over the past five years, and endlessly appreciative of all those, whose hard work not only propelled us to this point, but will undoubtedly supply the impetus that continues to move us forward. We are delivering consistent world-class content to our members and are expanding positive influence on the global investment profession. We depend on your input and work. Please continue to support us in this great mission by furthering your engagement with us, as we lead this noble profession forward.
Philip Taylor, CFA, Chair of the Board