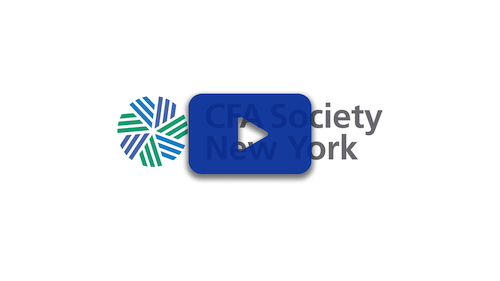 Please login to view this content.
On Tuesday, September 27, CFANY hosted its "Annual Market Forecast Dinner," at Mandarin Oriental Hotel, providing its guests an invaluable opportunity to network, socialize and learn from colleagues and advanced practitioners within the financial services and investment management industries.
Clad in their evening best, over 250 attendees arrived and gathered in the foyer— reveling in the company of their peers, appetizers and a full premium bar—before filling up the spacious Mandarin Ballroom, where 18-foot-high walls of floor-to-ceiling windows offered patrons an alluring view of the sun setting over Central Park and the Manhattan Skyline.
As entrees were served, the CEO of CFANY, Dan Dagen, CFA, opened the event, celebrating the company's 79-year legacy as the premier forum for financial analysts to explore, challenge and advance the field. Dagen noted his excitement in witnessing the reacquaintance of long-time members and the fresh acquaintance of others, visibly eager to embrace the new generation of charter holders.
The investor panel—featuring Eric L. Veiel, CFA, Elizabeth Hewitt and Krishna Memani, and moderated by Chris Cutler, CFA—opened up the discussion, touching on interest rates, the outlook for global bond markets and insights into U.S. equities during this election year.
On the topic of the bond market and the pervasive narrative that it exists in a bubble, Memani, the CIO and Head of Fixed Income at Oppenheimerfunds, finds concerns to be overstated.
"It's not about returns, it's about deleveraging; it's about safety," Memani said. "And as long as that's the case, all of us can talk about a bond bubble all we want, but the other side, the bond market blowing up, that's not going to happen."
With respect to the bond and credit markets, and the blame that ETF markets receive for it, Memani described the liquidity concerns as a framing problem. Contrary to popular opinion, Memani believes that bond ETFs—especially credit ETFs—are actually adding far more liquidity in the credit markets than they're taking away from the native market.
"If you are a credit investor, you know that you and every one of your friends is going the same way," Memani explained. "So if the liquidity was entirely dependent on credit-market participants, we will never have liquidity. So, what we need, is somebody to take the other side of the trade."
He continued:
"However, because liquidity in credit markets is so granular, if you are a typical equity investor or speculator, you aren't going to jump into something you can't predict, but will for something you better understand where it's going. So that pulls in liquidity from other participants that weren't typical participants in the credit market."
The evening was highlighted by its keynote event, an interview of Kenneth Jacobs—Chairman and CEO of Lazard—conducted by Bloomberg Radio's "Taking Stock" co-host Pimm Fox.
In addition to all of the thoughtful discussion and insight, appreciation was duly extended and awards were garnered.
Most notably, New York Life Investment Management CIO Jae Yoon, CFA, was bestowed with the Irving Khan Lifetime Achievement Award for his endless contributions.
The night was wrapped up by Harumi Urata-Thompson, CFA—enjoying her first annual dinner as COO of CFANY—voicing her appreciation for the role every individual plays in making nights like Tuesday possible, and urging anyone interested in an opportunity at CFANY to inquire without hesitation.
"If you have ever exercised, you appreciate how hard it is to build flexibility, agility and strength," Urata-Thompson said. "Rebuilding an organization is exactly the same. As we rebuild this 79-year old organization, we must feed it the right nutrients. It doesn't happen overnight, and certainly it could not happen without your support. CFANY has an open-door policy, because without you, this evening wouldn't be what it is."
CFANY would like to thank the following sponsors: CFA Institute (Platinum Sponsors), PowerShares (Gold Sponsors), and table sponsors BlackRock, Kahn Brothers Group Inc, Widom Tree Asset Management, Flex Shares Exchange Traded Funds, Market Technician Association & Lazard.